I made my first pair of socks! Granted, I made a silly mistake with the position of the decreases on one of them, but they came out pretty good, and I'm proud of them.
Weird thing is, I never really thought about knitting socks, because I rarely wear them. In the summer, I don't wear them at all, and for the winter I keep one pair around to wear inside my boots. But I took a break from my current sweater project to knit these because I needed them pretty badly, seeing as the right sock in my storebought pair had evolved a gigantic hole in the back part just above the heel.
The pictures: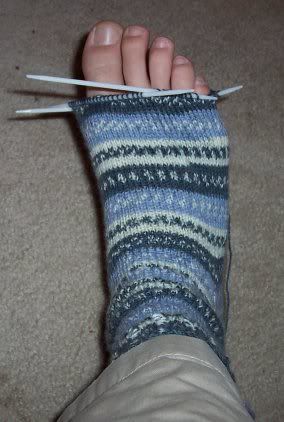 Sock in progress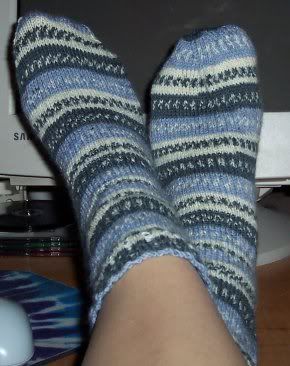 Finished socks!
It took me about a week of knitting to finish them. I love the yarn; it's Simple Stripes from KnitPicks, in "Storm". And the pattern came from this really neat thing I found while poking around Google for sock patterns. It's called the Sockulator, and if you put in your foot measurements and yarn gauge, it generates an easy-to-follow sock pattern. I love it, and I'm finding myself wanting to knit more socks, though I can't imagine what I'd do with them!
Now, though, it's back to the sweater, which I'm getting really close to finishing! I have about two and a half inches left on the second sleeve, then I'll be ready to put the thing together and wear it, so hopefully the next entry here will have pictures of that finished!
Then it's on to...hmm, either the
Naked
sweater, or Tubey. I haven't decided yet.

mood: tired