Whew! I finally got around to taking pictures of finished projects. As far as I can tell, my closet has yet to thank me for using up some of my yarn stash, as I've only used a little of it and have somehow managed to accumulate other yarns in the process. Thus is, apparently, the nature of a knitter's stash.
Starting with the kid stuff:
These were gifts for the children of one of my mother's co-workers, who lost her husband before Christmas. Of course, I had vague intentions of finishing these things before Christmas, but there was really no way for that to happen. So I finally got them out to their recipients this week, and I'm told the reception was good, which makes me happy. I love knitting for myself, but I also love knitting for other people. There's something about having the ability, when faced with a crisis or occasion that you've hitherto had no appropriate response for, to come up with a project or projects that will show that you're thinking of the people affected by the event.
And now the stash stuff: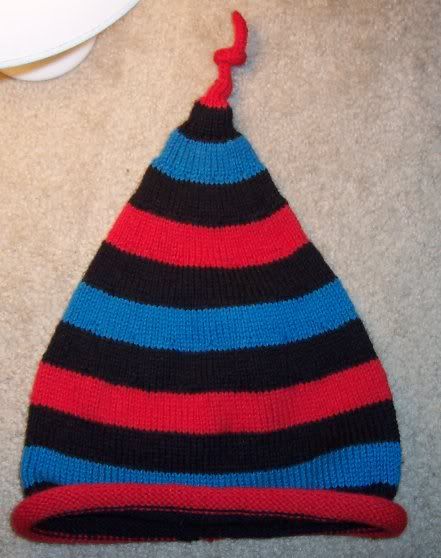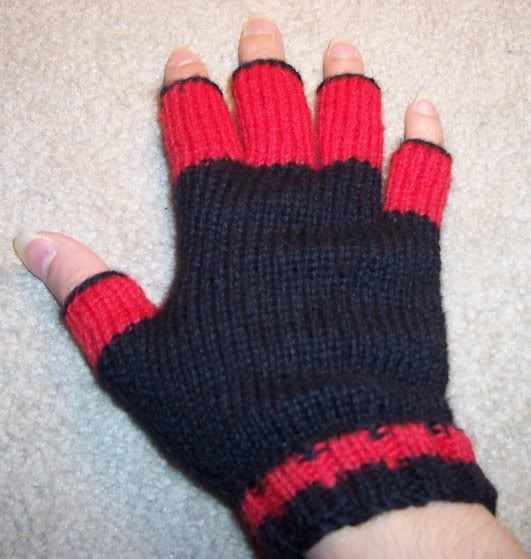 The hat is a tri-color version of the "Carrot Top" hat in
Knit Hats!
I'm not sure if it's supposed to be as long as it turned out, but it fits and looks decent, so I'm not complaining! I made it with leftover yarn from my previous sweater project, and the blue is from a felted purse I made over the summer.
I still had more red and black, so I made the gloves. For some reason, I'm in love with fingerless gloves. Maybe it's a style thing, or maybe I'm just a little too obsessed with the "dangerous" look of them. These have slightly longer fingers than the other ones I made, because my hands kept nearly freezing to the pump when I was wearing the other ones while gassing up my car. Thus, these are the "gas pump gloves".
Of course, in true stash fashion, I ran out of black wool while making the other glove and had to finish in a black acrylic of a comparable shade. Fortunately, it's hard to see unless you're looking for it. So, despite that fact, and the fact that I made a wee bit of a row counting error and the two gloves are slightly different lengths, I'm happy with them.
I still have small balls of blue and red wool left. Perhaps I'll make some blue and red socks? I'm not sure. For now, I'm working on a baby blanket, which I hope to post some pictures of this weekend. I'm not sure I entirely understand what I've gotten myself into with this one, but it's for a good cause and will also use up an appreciable amount of my stash.
(If you're wondering why the size of my posts suddenly grew, I've been reading books about knitting. I finished the first
KnitLit
a couple of days ago and just started
The Yarn Harlot
yesterday, so now I'm inspired to write more about my own knitting, even if I'm the only one who ever ends up reading it!)