The infamous Boyfriend Sweater from
Hip to Knit
is finished! Since I made it for me, I've affectionately dubbed it the "Without-a-Boyfriend Sweater".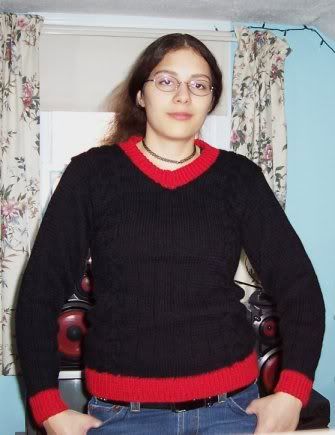 Me, wearing le sweater and looking rather silly. I never know how to smile when I'm taking my own picture.
I finished this on Feb. 25th, and have since knit two toddler-sized hats for the kids of one of my mother's co-workers. I also knit a toddler-sized jacket a short while ago that needs to have a zipper put in, and I'll post a picture of the lot when I'm done.
Currently, before I dive into another sweater project, I'm working on making hats from the various yarns in my stash. First I'm making a couple from the book
Knit Hats!
, then I'm not sure if I'll keep with hats or do some gloves instead.
I'm pretty sure that my next sweater project will be the Tubey, though by the time I finish it, it probably won't be sweater weather any more. Right now it's about 42°F outside, blue skies, with the sun shining and trying very hard to make it even more springlike. So for now I'll keep knitting away at my "stash hats" and wait for the spring issue of Knitty to give me even more projects to add to my list!
Mood: content
Music: Michael Nesmith - Capsule