It seems that, like on a real diet, a knitter on a yarn diet craves "comfort food".
I'm on both, and it sucks.
I've been on the food diet for 10 days, and it's going okay, except that counting calories is driving me nuts. Due to lactose intolerance and other various factors, I'm having a hell of a time 1) getting
enough
calories every day, and 2) getting the right
balance
of calories. Adding healthy fats without being able to consume much dairy has been an interesting challenge.
I've been on the yarn diet (mostly) since June, when I bought that KnitPicks lace sampler. I've bought a bit of sock yarn here and there since then, but have made no significant yarn purchases and have been knitting solely from stash or working on UFOs. And now...I'm sick of it.
I want to buy a bunch of nice, comforting worsted weight--since all I've been working with is lace, fingering, and sport--along with a nice, comforting pattern, sit my ass down, and just knit all day long. Unfortunately, as is so often the case, I can't afford to do any of these things, so it's back to the UFOs while startitis stalks my brain.
In this quest to tackle knitting without actually buying yarn, I
did
finish the socks
Glen Hansard lent his awesomeness
to: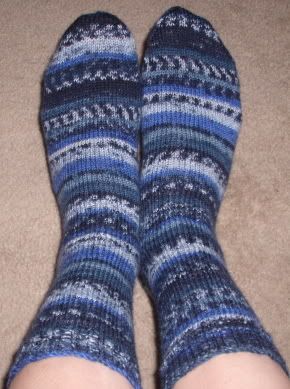 I
love
the colorway (
Berocco Sox
1426) and would have no problem knitting with it again in the future. I've already made some very tiny socks from the leftovers as a dangler for my key chain. 18 stitches on size US1 needles makes for one adorable little accessory.
As far as comfort knitting goes, I'm in the mood for something big, warm, and cabled. Something like the
Dickinson Pullover
, or the
Must-Have Cardigan
. (I'll admit to being in love with that cardigan ever since the Yarn Harlot blogged her way through knitting it a while back.) Even
Camden
is looking pretty good right now. I just want something that feels comfortable to knit, looks great to wear, and is just plain
fun
. The macaroni-and-cheese, or mashed potatoes, or big-bowl-of-ice-cream of the knitting world. (I haven't had any of these foods recently, either. Mac & cheese makes me sadly ill, mashed potatoes are a bit out of season, and even with a calorie count leaning toward "not enough", I haven't managed to sneak any ice cream in.)
Alas, I crave all these things without the current budget to support them. I'm still wondering how I'm going to manage the
Sheep & Wool Festival
this year (hint: it's looking like I won't be able to). Although I suppose it's all for the greater good. Ending a diet with a binge isn't that great of an idea, right? Even a yarn diet.
Right, I'll try to justify it that way.

In the meantime, Anne Shirley is looking promising as something that could be satisfactorily knit from yarn I have on hand.

Mood: decaffeinated
Music: Gillian Welch - By the Mark