Before I go into detail about the stash I should not have acquired today, some project updates: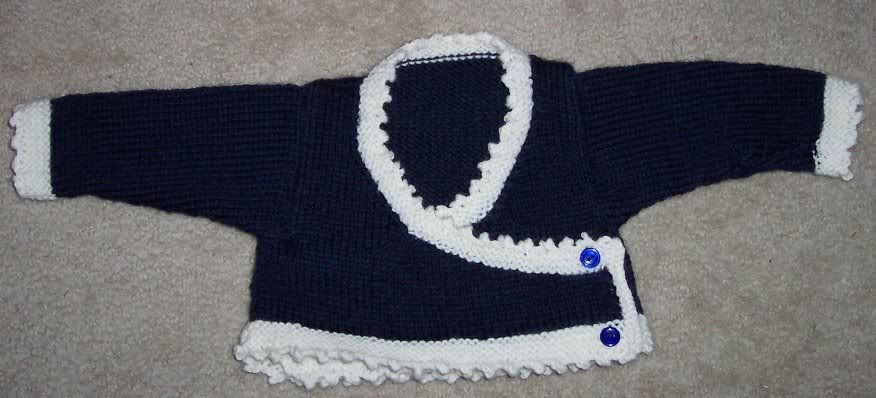 The Harvey Kimono for Girls from
Natural Knits for Babies and Moms
. I saw a picture of it in a recent KnitPicks catalog and just
had
to make it. So I dug into the stash for some wool and knit it up during some online chatting and way, way too much
Jeeves & Wooster
.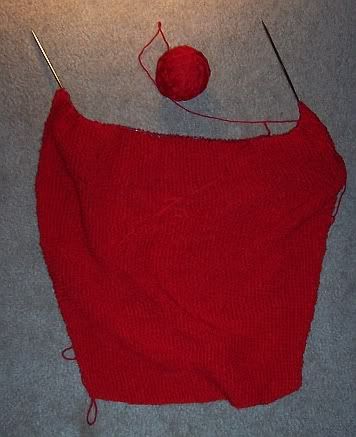 Some actual progress on my nemesis, the Red Cotton Sweater of DOOM. (Remember when I
bought the yarn
for this?) As I mentioned in a previous post, I've been knitting this when I need mindless knitting, such as during
Lost
or particularly confusing episodes of
Perry Mason
. It's also good for when I'm tired and want something easy to work on. Thus far, I haven't made any large amount of progress, but it's coming along. I won't discuss the messed up moss stitch row that required me to rip back several inches. Just another battle in the war I'm waging with this thing.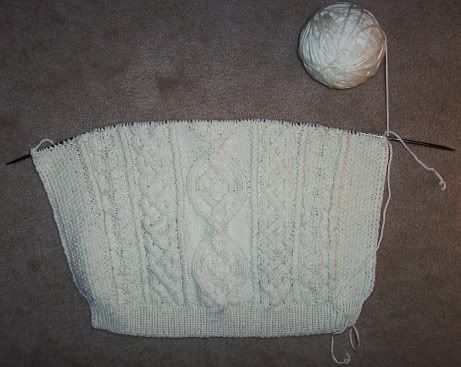 I had a battle with this, too (read: mis-crossed cables) that led to a couple of places looking a bit off, but I'm planning on fixing those when I block. This is the start of the back to the
Heirloom Aran Pullover
from KnitPicks. It has the largest amount of cabling of anything I've knit so far, and I'm really enjoying it. It's great to watch the pattern emerge, and I've been able to become familiar with it over the course of the first couple of full pattern repeats, so it's becoming much easier to work on it while doing other things and still have it come out right. I'm looking forward to wearing this when it's done, though it'll probably be finished and blocking sometime during the summer, so it may be a while before I have that pleasure.
As for stash acquisition...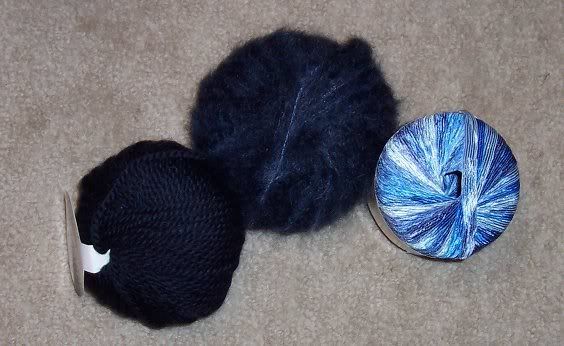 The wonderful
Stephanie
once again brought out the knitters of West Sand Lake/Averill Park/Sand Lake by having a $2/ball yarn sale on a good third to half of her inventory. Needless to say, I went a little more crazy than I had originally been intending to and bought 20 balls of amazing yarn that I wouldn't have otherwise been able to afford.
Pictured above: Jo Sharp in both a mohair blend (in the middle) and a wool/silk/cashmere blend (on the left). On the right, a tape/ribbon yarn, the brand name of which escapes me, but which was pretty enough to attract my attention despite my usual wariness of novelty yarn. I have vague plans for all of them. Never mind that I have a huge queue of projects yet to knit! Yarn is yarn, right?
Note to Harlot fans and fellow knitters in general: Be sure to check out the
Yarn Harlot
's Represent tour. She's going to a lot of neat places, and I think it would be awesome for every knitter possible to show up at each of her stops.
All for now. Knit on!
Mood: tired but knitterly (again!)
Music: Michael Nesmith - Two Different Roads