I like colors. My wardrobe may offer examples to the contrary, as it is predominantly black, but there are several things I like colors in:
-- Socks. I'm a sucker for self-striping sock yarn (in case this wasn't obvious).
-- Nature. I've lived in a rural area all my life, and every year I am struck by how vibrant spring and summer can be. Trees, flowers, birds, fresh produce...it's all beautiful, and I look forward to all of it no matter how many times I've seen it before.
-- Guitars, particularly
Gibson
. 'Nuff said.
Despite this, I've never been very enthusiastic about experimenting or playing with color. I always felt that I didn't have an eye for it, a belief that the
Circus Sweater
drove home rather painfully. Lately, though, my thoughts have been turning to serious dye projects. Experimenting with Kool-Aid is great, but I want to be able to have more control over my dyes. I want more vibrant colors, in something that isn't going to leave my yarn smelling like lemonade and fruit punch. I want...a dye studio.
I know a have a lot to learn before a studio setting could pay off for me, so I've been doing the logical thing: reading up on dyeing and color! I recently perused several such books, including Deb Menz's
Color In Spinning
, Linda Labelle's
The Yarn Lover's Guide to Hand Dyeing
, and, most recently, Elaine Eskesen's
Dyeing to Knit
. I found the latter two especially to be great sources of inspiration. I've learned a lot about the color wheel that I never managed to pick up on before, and tonight I did some experimenting: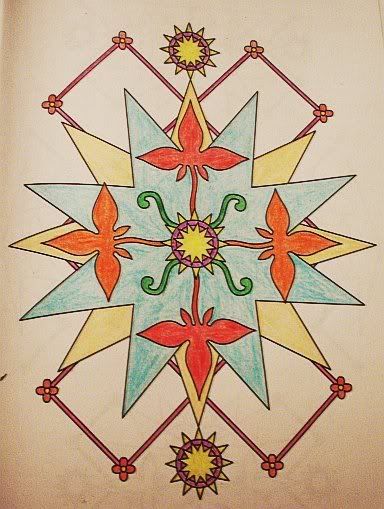 I had to darken the image a bit to make the colors stand out properly. It's still not exact, but it's close to the way the design looks in real life. It's in a book of black-and-white, color-them-yourself line designs I got when I was much younger, and I colored it in while referencing a small color wheel in
Dyeing to Knit
. I even laid the crayon colors out to correspond to the wheel, so the right colors would be easily within reach. I tried some work with complementary colors, color triads, and color harmonies. I think it came out good! I'd like to do a few more, both referencing the color wheel and freehand.
I'm finding some of the information hard to retain, probably because I've never been artsy in that sort of way, but I'm liking what I'm learning. It's fulfilling to feel like I'm finally getting in touch with a side of my creativity that was previously closed off. I'm beginning to feel a little more adventurous where color is concerned, and I think that's the first step towards being able to do the dyeing that I want to do in the near future. I have colorways in my head, inspired by everything from movies to books to RPG characters. I want to continue learning as much as I can in regards to color and dye techniques so that I can make these ideas a reality.
Also, I have discovered the work of Kaffe Fassett. Talk about delightfully insane...
Mood: tired & distracted
Music: Left Bank - Just Walk Away, Renee