Here I am, playing catch-up again. I was doing so well for a while there! I definitely need to get back into the blog groove.
My laptop has started sneezing on me every time I try to scroll through a large amount of files that are also of large size. Read: Explorer crashes. This is decidedly annoying, especially since I don't know what's causing it. It's making it quite hard to transfer large files between the desktop and the laptop. For now, I'm defragging the hard drive and letting Avast AntiVirus do its thing to make sure all's well on the software front. I'd forgotten just how long defragging takes.
While all of that is going on, and
Pandora
serenading me in the background, I'm going to bring this blog up to speed!
First off, the spinning:
This is one skein (approximately half) of the merino I spun
a while back
. Before I started some socks with it, I decided to do a little dyeing experiment. No pictures from that, but it involved five jars, some Kool-Aid, and a bit of steam! The colors didn't turn out as vivid as I wanted, but the result was a yarn with a somewhat tie-dyed appearance, so overall it was a good result.
The first sock, done toe-up to maximize yarn usage: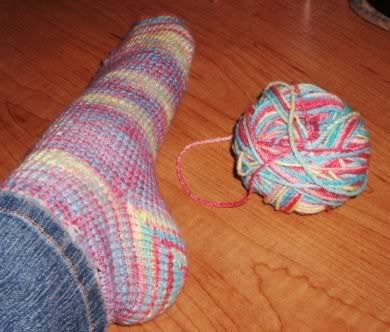 The ball of yarn next to my foot recently became the start of sock #2.
The yarn has more variation in thickness than I thought, and far too much twist in places, but it's knitting up fairly well. I may have to block the socks when all's said and done. It's a learning experience. As I knit, I find myself thinking about things I've read regarding spinning, and considering how to apply them in future spinning ventures. In my experience, this sort of learning takes a little longer and incorporates more trial-and-error than being taught in, say, a class setting, but it works just as well. I'm really enjoying learning new techniques and how to improve what I'm already doing.
Remember the
Eastside Weavers roving
? Here's what it became:
Thick-thin yarn, predominantly purple, of all things. I didn't realize just how much purple was in the color scheme until I started predrafting and spinning the roving. This led me to think (don't laugh) of Barney, of all things. Which, in turn, led me to think of the Garfield & Friends parody of Barney, Sidney the Pink Dinosaur (Season 7, "The Beast From Beyond"). Which is why this yarn is called "Sidney".
Okay,
now
you can laugh.
This yarn is available for purchase at my Etsy shop,
The Casimir Sheep
(formerly Northeast Knits).
Now, the knitting! Excuse the crappy webcam pics; I don't currently have my good camera on me.
I knit the majority of this pair while watching
Lost
and
House
, and got a bit more work in while reading extremely long discussion board threads on Ravelry and fighting the Morphing Bacterial Infection of Doom.
The yarn is Trekking XXL that I picked up on that road trip to Pennsylvania, colorway 312.
As you can see, I made no attempt to make them match.
First picture of the elusive Phoebe Pullover! This is sleeve #1, attempt #3. The pattern isn't difficult, but it requires more concentration than a lot of what I've been knitting recently (read: socks). My brain keeps trying to convince me that it's mindless, really it is, and I believe it until I find myself three-quarters of the way through a round and realize that I have no idea what stitch I just did, or if it was the right one. I'll have to keep re-training myself to pay attention, I guess!
With the exception of what's on the drop spindle at the moment, that's it! Catching up has been achieved. I can only imagine the chaos that's going to bloom around here when I start on my next endeavor: stash reduction...
Mood: cold
Music: Jim Croce - Dreamin' Again