Yep, more spinning talk!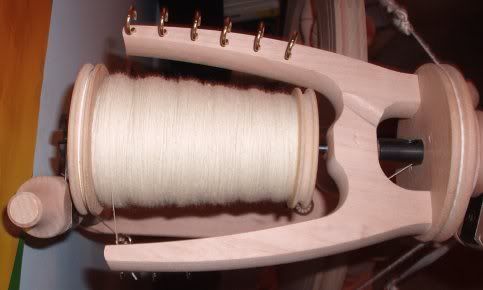 These are singles spun from just shy of 5 oz. of merino that I picked up on a recent road trip to Pennsylvania. My mom and I were driving along 202 on our way to Blue Bell, and came upon
Twist Knitting & Spinning
. Seeing as we haven't ventured into PA since I was extremely young, and I'm a sucker for any LYS wherever we happen to be, we stopped and took a look around.
It's a really cute shop. They have a lot of well-known names in yarn, including hand-dyed/handpainted, as well as a diverse selection of fiber. I had the pleasure of sticking my hand in a bag of 100% cashmere, which was, unfortunately, far beyond my budget. There was also merino, angora,
camel
, and all manner of blends! I settled on the merino, it being both reasonably priced and amazingly soft.
It took me nine days of diligent spinning to get it all done. I spun the singles very thin, with sock yarn in mind, and Navajo plied them.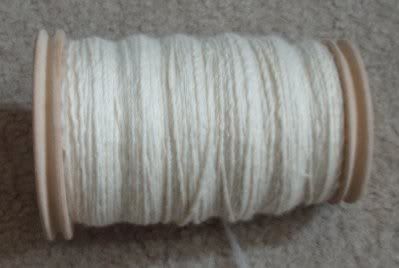 Then, with the help of a postal scale, I split the yarn into two skeins, roughly 2.5 oz/each.

I haven't swatched yet, but I
think
I managed to get sock yarn, or very close! I don't know how much it amounts to, yardage-wise. I really need to invest in a yardage counter, or something of the like.
Though it's very pretty as is, I'd like to dye both skeins at some point. Problem is, I've put so much work into them, that the blue and yellow Kool-Aid I bought yesterday somehow doesn't seem like it will do them justice. I'm pondering making concentrated dyes and hand-painting the yarn blue, yellow, and green, but I'm not sure. Having spent 30+ hours spinning and plying this, I don't want to ruin it with a bad or substandard dye job.
I have, however, been practicing dyeing techniques!

I had some KnitPicks' Bare Peruvian wool left over from making Inishmore, so I skeined it up yesterday and goofed off a bit with Kool-Aid and food coloring.
My original intention was to make a colorway with blue, black, red, yellow, and orange. A shortage of red food coloring and a miscalculation in color mixing had me end up with the blue, rose-pink, yellow, and brown in the picture. Despite the difference from what I was picturing, I like it! It's kind of psychedelic. I don't know what I'll do with it, but I'm thinking it'll become a hat for a baby and/or small child.
In case you're wondering, I hand-painted using concentrated Kool-Aid/food coloring dyes mixed up with water and a teeny bit of food coloring. Being unable to locate the sponge brushes I know I have, I ended up cutting a bit off an old sponge, cutting the end at an angle, and using that to dab the dye on. It worked quite well! Then I wrapped the whole thing up and steamed it for about 45 minutes in a strainer suspended over a stainless-steel pot. One thing I learned during the whole process is that I definitely need to hit the discount and thrift stores and get myself a full set of dyeing equipment.
In the near future, I would like to embark on adventures in dyeing with something like Jacquard acid dyes. Perhaps I'll get some practice in with that before I try to dye the merino. I know I want to do some more reading on the subject, especially on making
self-striping yarn
!
Tomorrow, I'm off to a local fiber arts and crafts fair. I think the world of fiber arts has truly eaten my brain, and I'm not upset about that in the least.
Mood: tired
Music: Michael Nesmith - Rio