Yes, I can has handspun!

The picture's a little blurry, but the color is fairly true to life.
This psychedelic yarn started out as hand-dyed wool top from
Uniquely Yours Design
, in a colorway called Flav-Or-Flav.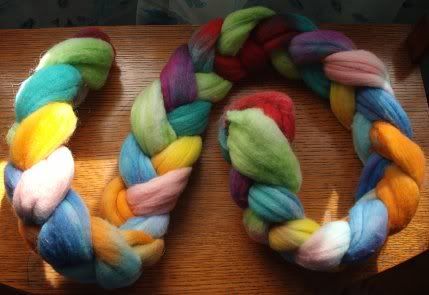 The bits of red really caught my eye, and I was pleasantly surprised by the vibrancy of the colors when it came in the mail. I split it up into color repeats:

and split those further in order to spin stripes in succession.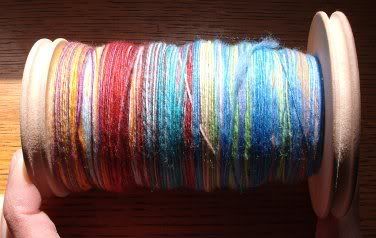 The singles I made from this are the best singles I've spun to date, which makes sense, I guess, seeing as practice has a tendency to beget better results!
Speaking of, I thought about Navajo plying the singles, but decided to go for two-ply this time. I've only practiced Navajo plying once, and didn't want to risk screwing up the process and ruining this great colored wool. I went for two-ply, which resulted in the groovy, Froot-Loop-like effect in the final skein. Thusly, I'm calling it Fruit Loop! I'm not sure exactly what I'll be making out of it yet. I might just let it sit for a while and admire the colors.
I continued my adventures in color yesterday by taking the time to do some dyeing in the kitchen. A little while back, I spun the rest of the natural-colored wool into some two-ply:

Still kind of slubby, but a lot more even than the first batch! I took that, along with a recipe for food coloring dye from Linda Labelle's
The Yarn Lover's Guide to Hand Dyeing
, and went to work.
I was going for a teal, which turned out as a somewhat muddy green at first, so I tossed the yarn in a second dyebath that was just plain blue, and ended up with a neat ocean color.

If I had to give it a name, I'd call it Under The Sea. (That was always one of my favorite songs from
The Little Mermaid.
I mean, really, how can you resist a singing crab with a Jamaican accent?) It's destined to become a thick-and-thin garter stitch scarf. Boring as that sounds, I think it'll really show off the color, and the simple stitch won't suffer from the unevenness of the yarn.
The Phoebe Pullover is still underway. But I've really been in a spinning mood lately, so I think I'll wind up posting more about that than knitting over the next couple of weeks!
Mood: distracted
Music: Kate Blain - The Good Life