No, it has not been 7 weeks since my last update. *looks around innocently*
I meant to update sooner. I really did. But, contrary to what Netflix and my Sims will tell you, I
have
been busy!
Since my last update, I've played 3 shows, gone on vacation, spent some time recording in the haunted basement, and started a new job. Somewhere in between, I've found time to knit some stuff! (I also
visited yarn shops
while I was on vacation.)
I have a disappointingly small amount of pictures, because I'm lazy. I'm sorry. Please don't poke me.
I finally finished the sweater from
Interweave Knits
' Peapod Baby set: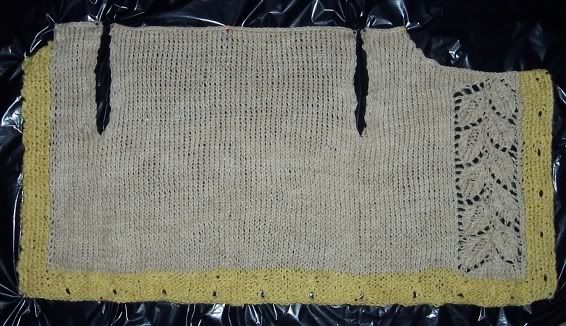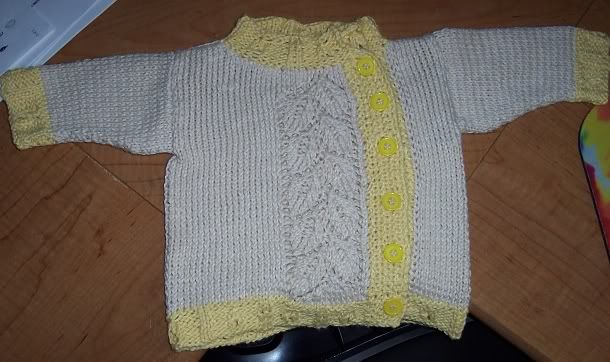 Hurray for JoAnn, which is where I got the buttons. I now have more adorable, colorful buttons for kid's clothes than I will ever need.
I also, finally, found a good use for the Lamb's Pride worsted I bought at
Stephanie
's
yarn sale
. (Yes, the first one, not the second one. This stuff has been sitting around for
that
long...)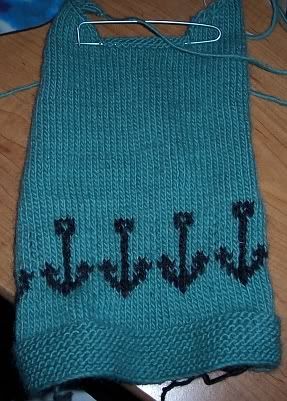 Boat anchors!
The picture shows just the front of a small child's pullover that I designed with the help of the Knitwear Sweaters demo, and the absolutely adorable
1000 Great Knitting Motifs
. Unfortunately, the yarn estimate was off somewhere (I probably used more than I thought making felted swatches for the bag I thought I was going to make), and I ran out of seafoam green about halfway through the second sleeve. So, that's on hold until I can either find another knitter with some seafoam green in her stash, or I overcome the fear of having seafoam green leftovers in mine for the rest of my life and just buy another skein of the stuff.
Also in the works is a cable-and-leaf motif sweater for my mother, knit in a nice sport-weight red cotton. Yes. Sport-weight, adult sweater. I'm seeing a finishing date of 2020 for the thing. It's a good thing I'm into

M*A*S*H

and have about 10 1/2 more seasons to keep me busy whilst I knit.
Seriously, though, it's a beautiful pattern, and with the way it's going, it will need only minimal blocking when I'm done. And the yarn I'm using is actually the recommended yarn for the pattern. My mom spotted the finished project at
Kaleidoscope Yarns
when we were there and we ended up buying both pattern and yarn on the spot. How often does
that
happen to a knitter on a budget?
Next update soon, with more pictures! I swear.
mood

: overly jazzed


music

: Meg Davis - On the Edge of the Forest