I'm going to start this post with a picture of my dad's Father's Day present: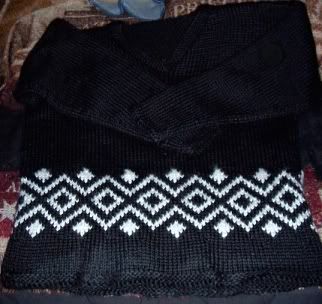 It's the Spartan Pullover from the Fall '06 issue of
Interweave Knits
. I know what you're thinking...a fairly hefty, black sweater in June?? I initially meant for it to be a Christmas present, but with one thing and another, I wasn't able to get the yarn for it until recently.
The only modification I made to the pattern was to pick up stitches at the armhole and knit the sleeves in the round. It saved on a lot of time and seaming (say it with me: YAY!), which is probably part of the reason why I was able to finish it on time. I used Caron Simply Soft Quick because 1) my mom's allergic to wool so I couldn't have my dad going around in a wool sweater, and 2) I know how tightly I knit, and worsted never would've gotten me anything close to gauge.
About 3/4 of the way through the sweater, I was hit by a bout of startitis and cast on these: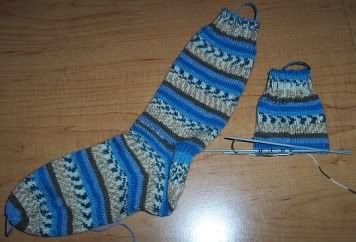 I've been knitting them at every opportune moment since then. I didn't keep the ball band, so I can't say what yarn it is, but I really love the color. It makes me think of earth, sky, and water. These are for me, to add to the collection of socks that I have yet to find a way to show off. (I've been thinking of getting some Crocs, but I hesitate to pay what they ask for a pair of rubber shoes...)
I haven't decided on what my next major project is going to be. The rust-red cardigan is on hold until I can locate more yarn for it. I have some ribbon yarn from
Stephanie's last yarn sale
that I've been planning to make a tank top out of, and since it's been so hot, I think that might be what I cast on next. Then again, maybe I should concentrate on the Red Sweater of Doom until it's finished.
*pause*
Hahahaha, seriously though, I'll come up with something over the next couple of days!

Mood: a bit tired
Music: Sims background