After staying up until sometime after 5am, I have determine that, while watching
House
DVDs into the wee hours of the morning can be fun, it's not conducive to actually accomplishing anything the next day.
However, before I retired to bed with laptop in hand to watch yet another hour of Hugh Laurie doing his sarcastic comedy thing, I did work on these: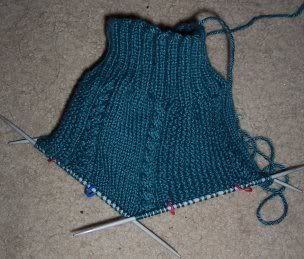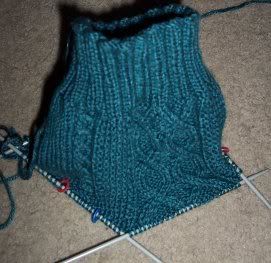 One sock, two different views. These are the lovely and mind-boggling
Clessidra
socks from Knitty. At first glance, I thought they were going to be ridiculously hard and take a lot of concentration, but now that I've been through the cable pattern several times, I've gotten into the rhythm of it. These are going to be a lot of fun. I even ordered a pair of black Crocs in which to show them off when they're done.
Oh, and the yarn is KnitPicks'
Gloss
in Woodland Sage. 70% merino wool, 30% silk...it's the softest sock yarn I've knit with yet. I'm going to be so spoiled after this, it might be hard to go back to regular old self-striping!
In other news, check it out! The Red Sweater of Doom has a back!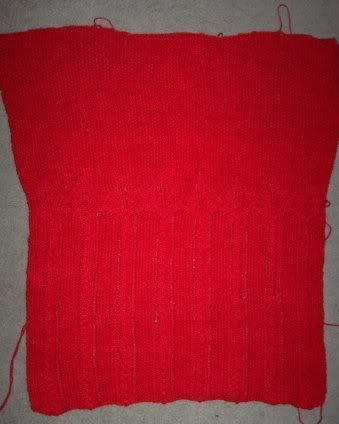 I'm going to need to block the heck out of it to get the top and bottom to match, widthwise. I have a feeling that I should have done some decreases after the cabling, but since the pattern didn't call for them, I can only hope that it's meant to look a little whonky at first. Then again, with the way this sweater and I have been getting along, you never know...
Speaking of cabling, here's the leaf cable up close: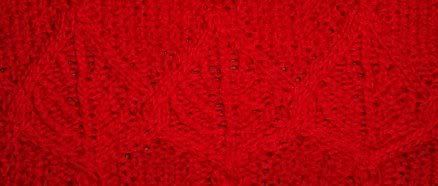 It
is
a very nice cable pattern, just about worth the time it takes to knit...but only just. I'm hoping that the front will take less time now that I have the entire chart written out.
Backtracking to sock knitting for a moment,
Stephanie
of Wool 'n Word fame is starting a sock club! The initial post about it is
here
; keep an eye on her blog for more details. I'm betting her sock club will be just as great as her shop.
That's all for now. Onward and upward to more sock knitting! (Oh yeah, and check out
Ravelry
.)