Here I am, back in the blogsphere after a whirlwind of a holiday season. I'm still having trouble wrapping my mind around the fact that it's 2008 (where did 2007 go?); that Thanksgiving, Christmas, and New Year's have passed; and that my vacation is very nearly over.
You would think two weeks off from work would give a girl ample knitting, writing, blogging, and all-around goof-off time, right? Wrong.
Well, sort of wrong. Shortly before the start of my vacation time, I was cursed with what seemed like a winter cold. Said cold was annoyingly persistent, so my doctor put me on medication, which eased the symptoms a bit, but didn't kill them entirely. So I'm stuck with the remnants of the cold (or whatever it is), which include a nasty cough that has landed me in bed more than once doing little aside from chatting and watching unhealthy amounts of
Jeeves & Wooster
. So I haven't done much that's productive.
I did, however, work on the circus sweater--er, the Mirepoix--over Thanksgiving and Christmas.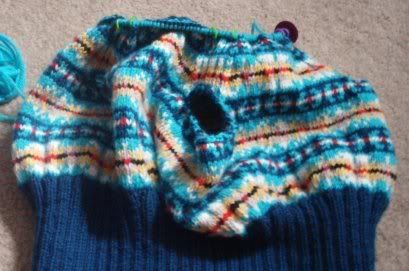 The whole steeking business has, so far, been easier than I thought it would be, albeit more time-consuming. (That's the front neck steek in the picture.) Cutting them open when the time comes still makes me uneasy, but since other knitters have been using steeks literally for centuries, I suppose I shouldn't be worried.
I'm finished with the armhole and neck decreases and am now on to the bit where I have to knit miles and miles of the exceedingly ugly circus colors until the armholes are the right size. On the upside, I have found someone who doesn't think the colors are deathly offensive, and so the sweater will be shipped off to her when all's said and done.
I'll probably knit the pattern again for myself at some point in the future, but definitely not any time soon. Fair Isle is fun to knit, and it's fascinating to watch the color pattern come together, but it also takes a
really long
time. For now, I'd rather knit something I can work on easily without having it take all of my attention.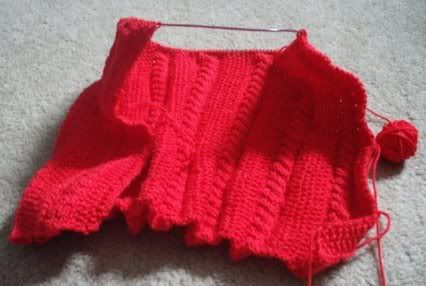 And, *gasp* what's that? That's right, it's the Red Sweater of Doom, back again!
I got the weird urge to work on this last week, so I got out the size 5 needle tips and went to it. I haven't hit a point where I can't stand it yet, so I'm going to keep at it until I do. Hopefully the urge won't run out before the sweater is done.
I think this is the best picture I've taken of it so far. The color is a little lighter than the yarn looks in real life, but it's very close, and you can finally see the cables clearly. These are just the small ones; the leaf motif doesn't start for another 20 rows yet. I'm hoping to get to it today, or at least finish the little cables.
Best thing about this sweater (and the only thing that isn't "of Doom" about it)? The edges are all in seed stitch, so it'll seam in no time.
In other news, I finally got to see the acclaimed movie,
Once
, shortly before Christmas. I had read and heard so much about it over the months between when it was released in theatres and when the DVD came out, that I was practically bursting when it hit store and rental shelves. I had already fallen deeply in love with the soundtrack when I bought it back in September, and was well-acquainted with the music by the time I ran out and rented the DVD.
Guys...see this movie. If you love music or play music, see it. If you've ever completely lost track of time while doing something you love, see it. If you now or have ever loved someone who has music in their soul, see it. See it with them. See it with friends. And keep some tissues handy. It's different, it's bittersweet, and the music is amazing. The fact that Glen Hansard & Marketa Irglova (the leading Guy and Girl, respectively) wrote and performed all the music on the soundtrack makes it that much better.
Believe it or not, there is actually a knitting-related connection here. There are some fun knitted things hiding in this movie, most notably (to me, anyway),
Marketa's gloves
. Alice Starmore's
Aran Knitting
has a cable charted that's very similar to the one on the back of the gloves, and I have plans to work out a pattern for them using that as a guide. When I do, I'll post it here so we can all knit cute mitts!
That's all the knitterly news for now. I'll try to be a little more consistent with my posting now that the busy holiday season is over!
Happy 2008, everyone!
Mood: sick
Music: They Might Be Giants - I Can't Hide From My Mind