Gasp! Last week's holiday weekend totally messed up my schedule, and thusly, I missed last week's update. But I'm back now, with pictures!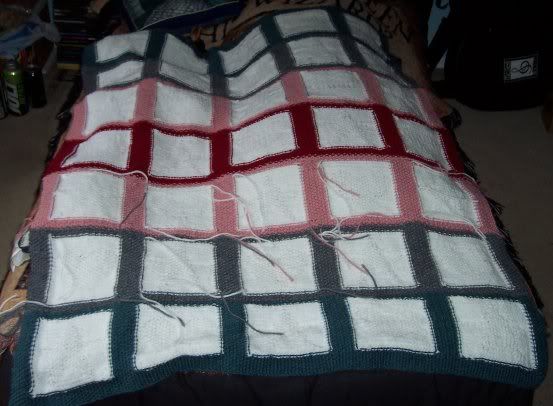 Progress on le blanket! It's been off the needles for a couple of weeks now, but the prospect of weaving in all the ends has been an overwhelming one. I've only been doing it at Stitch 'n' Bitch, and last night I got help from a friend, so there's a lot less left to do than there otherwise might be. It should be done next week!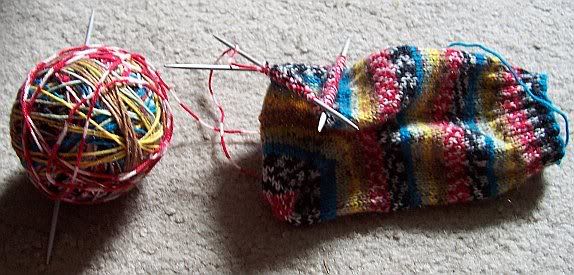 The "crazy sock". I'm making this pair from the yarn that's leftover from the other crazy socks. I tried out a heel technique from Sensational Knitted Socks that makes lovely concentric circles without a lot of effort. It involved my first-ever attempt at a provisional cast-on, and I think it went pretty well. I may never knit heels any other way again!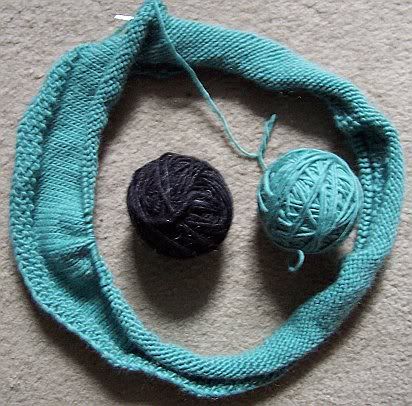 This will, eventually, be a striped, felted bag. I'm using the Lamb's Pride I got at the yarn sale. I love knitting with this stuff! I test-felted a swatch, and, as I've been told, it felts great. I'm looking forward to having the knitting time to make some real progress on this.
And last, but not least,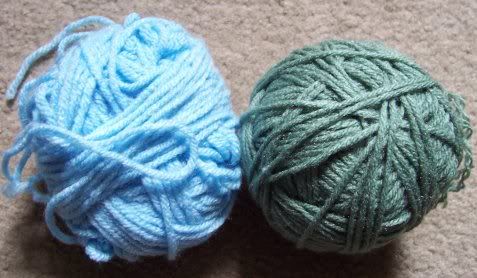 more acrylic stash I don't need! I got it from a friend last night at Stitch 'n' Bitch...I couldn't resist free yarn.
I also finished knitting the cotton bag for my mom, but I have no pictures of it yet. I think I'll take some once I've lined it and put the handles on, so I'll have a picture of the finished piece. The colors all go well together, and I'm going to line it in black so they stand out.
Eek, this was kind of a boring, routine update. I'll try to be more exciting next week!
Mood: caffeinated