Thanks to a quick blocking job with the help of a high-powered fan,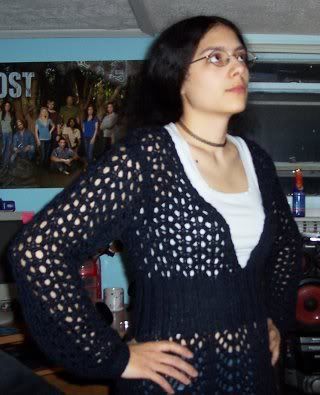 it's done! The only thing I changed after taking the picture was to sew an inch or so of the neckline shut so that it draped better.
Complaints:
-- While the aran-weight yarn got gauge well enough, it's a bit light and so the shoulders don't always stay up properly.
-- The sizing on this pattern is a bit convoluted. I made the body at the closest to the correct bust size there was, and it's still a little big. The corresponding sleeves, however, were both too small around and too short. The sleeves for the modified armhole where the right size, but also too short. This is probably more of the fault of my broad shoulders than the pattern.
Likes:
-- The yarn is
really soft
. Yet another thing I wish I could afford regularly. (JoSharp Silkroad Aran, in case I forgot to mention it before.)
-- It's warm without being too warm, and nicely light. Also looks good with jeans. I'll probably be wearing it to Rhinebeck this weekend.
I am so excited for Rhinebeck! I really wish I could go Saturday, but I have a gig on Saturday night and walking around all day beforehand would not be conducive to putting on a good performance. So Sunday it is, all day long, in all its fiber-filled glory.
This has, however, turned out to be a
good
thing, in that I will finally
get to meet the Yarn Harlot
! I will try not to geek out too much, but it's always exciting to be able to meet people whose work you enjoy. I love reading Stephanie's books and blog, and I admire the way she can make me laugh at a regular, everyday scenario that has never before struck me as funny. I'd say she's well on her way to becoming the Terry Pratchett of the knitting world.
That's all for now. Next time, whatever progress I manage to make on Mirepoix!
Mood: way beyond tired
Music: The Frames - Revelate