Behold, the start of Mirepoix!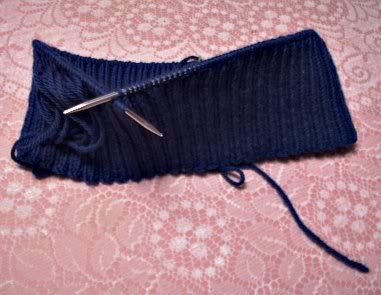 Pictures will improve once I learn how to use the setting for closeups on my new camera.
It has been an age since I've done any mindless knitting. I think the last thing I worked on that required little or not attention was my dad's Father's Day sweater. Everything else I've done lately has had either cables or lace.
I know what you're thinking.
"But Sam, Mirepoix has a freakin' huge fair isle section! With steeks!"
I'm thinking it, too. But for now, it's lovely k2p2 ribbing for miles and miles. Knitting that can be done in the dark or by the light of a monitor screen is much valued during
2am RPG sessions
!
Technical tomfoolery thus far:
I'm using size US4 and US5 needles and DK weight yarn rather than the 3 and 4 with sport that the pattern calls for. I know myself; I knit very tightly. I just so happened to have some KnitPicks Merino Style in the stash and, on an impulse, swatched some up on a size 4. Yep, gauge. It's kind of sad how it took me three years to figure this out about my knitting.
Mild pattern gripery:
Nothing, I repeat,
nothing
I knit in my bust size has armholes or sleeves the right size. Since we're all knitters here, I'll spill; I'm a 36". This means medium sizes, right? Right.
Except for armholes and sleeves.
For some reason, almost every single pattern I've ever knit from in a 36" bust size (or the closest size the pattern has) either has 14" or 16" armholes and 18" sleeves. Even with drop shoulders, neither of these is big enough for me. My arms? 21" from underarm to wrist. Hence the necessity to resize everything.
However, I've been thinking on Mirepoix and have decided that going up a bust size was, for once, possibly not the best move. Big, for this sweater, apparently equals bad. So I'm thinking of doing an equivalent of the increase row for the 35" size and knitting the fair isle section in that size. But because 1) I've put a lot of time into it already and 2) I am not itty bitty, never have been itty bitty, and don't have any illusions of being itty bitty, I'm doing the rest in the 38.5" size.
Methinks I'm going to need a highlighter.
Mood: contemplative
Music: Arlo Guthrie - The City of New Orleans