Yes, they're done! Here are the finished
Clessidra
socks/stockings: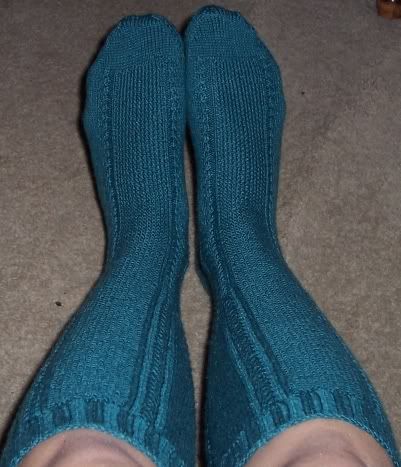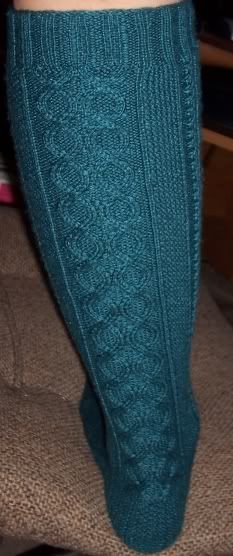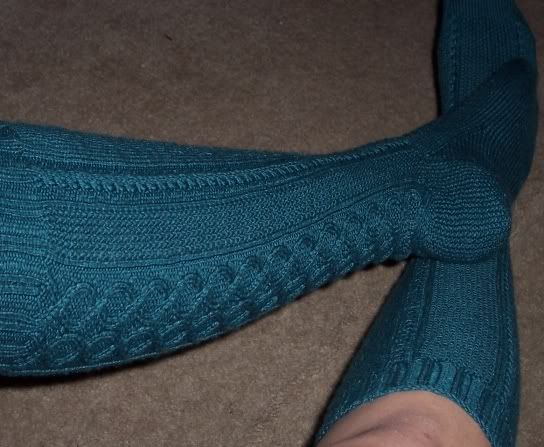 They are soft, comfortable, and very, very awesome. And I'm not saying that because I knit them. The pattern is brilliant. It's everything you could want in a sweater, but on a sock scale. I thought it would be difficult to keep track of, but there's quite a good rhythm to it once you get going. The leg takes a while with that back cable to do, but the foot zips right along.
Despite two mis-crossed cables that I decided not to worry about, I'm proud of them.
(The yarn is KnitPicks Gloss in Woodland Sage, if I haven't mentioned it before.)
I'm moving right along to...you guess it, more socks! Now that Clessidra's done, it's
Pomatomus
time!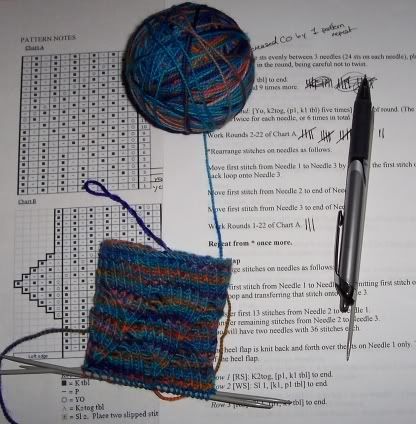 The start of a Pomatomus in its natural habitat, pattern and all. The only thing I changed was to cast on one less pattern repeat, due to the original size being too large for my already big feet. The yarn is the Koigu I bought at Kaleidoscope Yarns.
I started the socks last night and am already loving the pattern. It looks intimidating, and I've seen a blog or two where they were referenced as being difficult, but so far I've found them to be fairly intuitive. The yarn overs have a habit of disappearing, but that's easily fixed.
The best part? The chart is easy to read and makes sense as the pattern emerges in the knitting. Like Clessidra, it has a rhythm. These are going to be
fun
socks.
And now, back to your regularly-scheduled weekend.